Cell Division in Prokaryotes
Prokaryotes divide through a process called binary fission (which literally means 'splitting in two').
In prokaryotic cells, there is no nucleus and the DNA is free in the cytoplasm. This means that the process of cell division is a little simpler than it is in eukaryotic cells.
First, the DNA is replicated. A prokaryotic cell usually contains a single, circular chromosome. It may also contain some plasmids. Each of these DNA molecules is replicated to form two identical copies.
The different copies of each DNA molecule then go to opposite ends of the cell.
Finally, the cell membrane separates to form two cells. Each cell receives one copy of each DNA molecule.
Binary fission is the process by which prokaryotic cells divide.
The two cells that are formed are genetically identical to the original cell and to each other.
Prokaryotes are always unicellular, so they only use cell division for reproduction (there are no tissues to grow, maintain or repair). And reproduction in prokaryotes is always asexual.
If prokaryotes have enough nutrients and are at a suitable temperature, they can carry out binary fission very quickly. Some species of bacteria can divide by binary fission once every 20 minutes.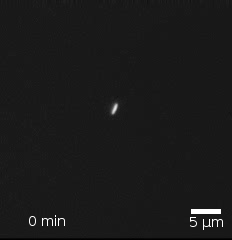 Time-lapse video of bacteria dividing. The bacteria are E. coli, which is a bacterium commonly found in the intestines of humans and many other animals. Image: Stewart EJ, Madden R, Paul G, Taddei F (2005) via Wikimedia Commons (CC BY-SA 4.0 - https://creativecommons.org/licenses/by-sa/4.0/deed.en)
Please consider donating to support Mooramo. I am one person doing this whole project on my own - including building the site, writing the content, creating illustrations and making revision resources. By making a one-time or repeating donation you will buy me time to work on Mooramo, meaning that I can get new content on here more quickly.